Curriculum
The MolTag faculty comprises group leaders from four different institutions, each of which offers regular PhD programs. A contract between Moltag and the research institutes grants that the MolTag PhD program is fully credited and supported by each institution. As the requirements for graduation differ among the involved institutions, each student fulfills the particular requirements in terms of total ECTS and institutional core curricular requirements, as well as institution specific procedures for thesis evaluation and approval.
In general, according to the rules of the Universities, the students may individually select their courses offered within the PhD programs of their host Universities. Students are encouraged to co-register at the partner universities of the MolTag Faculty to attend the courses offered. Consequently, the students can choose out of a broad portfolio of lectures, thus enabling an individualised curriculum with lots of opportunities to expand their knowledge base.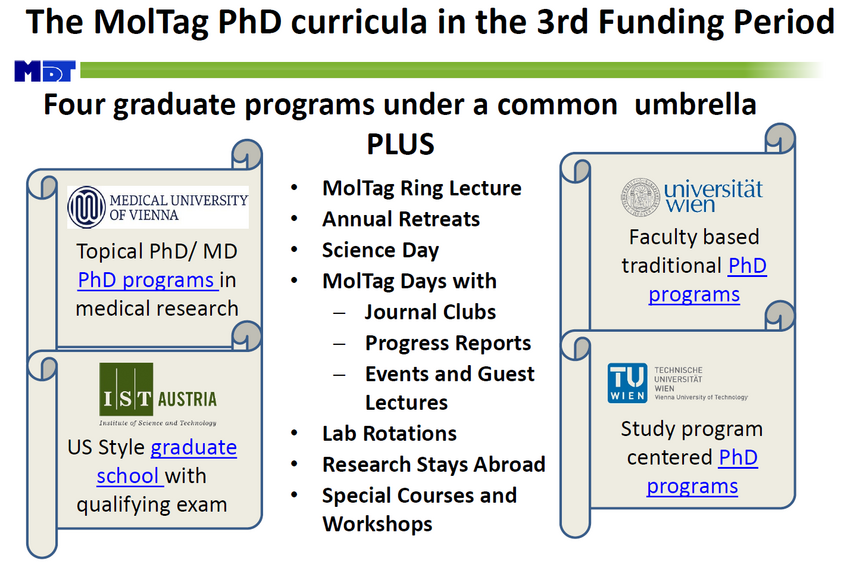 Specific Training Program
We conduct a highly individualized training program which exposes all full member and associated students to the advantages of a lab rotation period and multi-centre lectures and courses, allows them to freely combine courses from the three Vienna based Universities and IST and offers them the chance to conduct research or trainings abroad.
Cross-disciplinary training in different research methodologies
In-depth expert training under supervision of two supervisors and members of the SAB
Individualized training program for all students by lab rotations (MolTag-PI or –SAB)
Individualized training abroad according to individual needs of the students
Integration in the local and international research community
Extensive support for participation of MolTag students in national and international workshops and meetings
Soft skills training offered by MolTag (academic ethics, career planning, interpersonal communication skills, publication writing,…).
Individual soft skill training possibilities as offered by the research institutions
Commensurate pay package including health insurance; flexible working hours
Assistance in relocating to Vienna
More Information on
Journal Clubs and MolTag Days
International Guest Lectures
Annual Scientific Retreat
International Conferences and Internship abroad
Lectures offered within the curriculum